You didn't go into business to spend countless hours wading through complex and ever-changing contract laws and regulations. Does it make sense to be spending so much time on contract management issues that you have little to no time to focus on the work that is central to your long term goals? You could hire and train a team of full time employees to manage your contracts, but wouldn't that be both expensive and time-consuming?
Outsourcing offers a better solution. More and more companies are freeing up time and money by outsourcing their contract management functions, such as proposal development, commercial, international, and DoD contract administration duties, contract claims work, quality assurance, and proprietary protection functions. This allows companies to reduce costs and increase competitive position.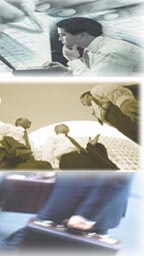 What are some of the many benefits of outsourcing your contract management to M3 Federal Contract Practice Group, LLC.?
1.)  Access to Expertise.  Outsource your contract management duties to our highly competent staff of federal procurement experts. Draw upon our 35 years of expertise in every area of federal procurement. M3 Federal's expertise includes an extensive knowledge and understanding of complex procurement issues such as bid protests, proposal and proposal development, contract management, Federal Acquisition Regulations, risk mitigation, claim identification, and claim resolution. M3 Federal has achieved and maintains our up-to-date knowledge through significant experience as well as ongoing education. Our knowledge will provide a host of benefits, such as the ability to spot developing opportunities and keep you business compliant with changing laws.
2.)  Improving Focus.  When you outsource your contract management tasks, you and your employees can be freed up to focus on your business's core competencies. The extra time you and your employees can devote to your firm's core business will make a real difference to its bottom line.
3.)   New Perspectives.  Let M3 Federal's procurement experts with years of experience working with companies similar to yours provide ongoing input to improve your contract performance.
4.)   Lower Costs.  M3 Federal's experience and knowledge of the many aspects of contract management along with our resources allow us to perform these tasks far more efficiently than other companies or employees who do not possess a complete understanding of the complex details involved while managing Government contracts. By outsourcing you will get access to experts at a much lower cost than by hiring and that translates into cost savings.
M3 Federal's associates will work as independent contractors within your existing organizational structure, providing excellent services while at the same time reducing your overhead burden.
In order to accommodate fluctuating Client demands M3 Federal allows Client(s) to:
Charge ONLY for actual materially beneficial hours.
Hourly charge is $150 per hour.
If Client reaches 56 hours of billable time, within a given month, the monthly rate is fixed at $8,500. There is no hourly limitation after reaching the fixed monthly rate. This cycle is repeated monthly.
24/7 Support
M3 Federal can be your Subject Matter Expert working with your personnel and directly with your customers.
For more information click here
For more information about M3 Federal's Contract Management Services, please contact us!