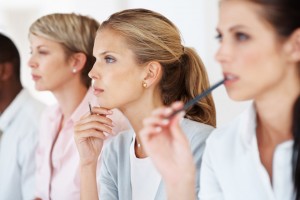 M3 Federal Contract Practice Group, LLC. (M3) will be presenting seminars for Federal employees, Prime and Subcontractors, and international companies interested or currently involved in Federal Government Contracting.
M3 has designed our seminar offerings based upon the education, background, and 40 years experience of our lead seminar instructor, Patrick Malyszek, J.D. Each format is structured to establish the best means of conveying the material based upon the interest and involvement level of the seminar attendees with federal procurement.
The "Developmental Seminars" These seminars are for those companies or employees that are in process of developing the knowledge base in order to properly function within the federal procurement field. The courses offered at this stage layout the entire framework of conducting business with the U.S. Government and its prime contractors. These seminars are typically one day seminars held in predetermined locations or at your facility.
The "Procedural Seminars". The prime focus of these seminars is specifically comprehending the key elements of the regulations and expectations of the U.S Government and prime contractors. Patrick Malyszek, J.D. will discuss how to create a set of goals based upon your business charter and how to acheive those goals while staying compliant and successful in your proposal efforts and contract performance efforts after award. We also cover common problems that lead to claims and disputes.
The Cognitive Seminars take into consideration the complex mix of federal regulations and commercial laws that we are obligated to follow and how to set up strategizes to become and stay compliant, make a reasonable profit, and mitigate risks with the U.S. Government, prime and subcontractors, and international transactions.
Seminar Formats;
1 Day Development Seminars: These seminars generally focus on the entire federal procurement process to give the seminar attendee an overall understanding of the federal procurement field. These seminars can be tailored to address specific topic(s).
2 Day Procedural & Cognitive Seminars: On the first day of the seminar M3 Federal gives its seminar presentation focusing on rules and goals. The second day the seminar attendees can sign up for 1 hour personal consultations. These consultantions are beneficial in that our attendees can leave the seminars with their questions answered.
In-house Seminars: These seminars generally involve Developmental, Procedural, and Cognitive seminars. The purpose of which is to give employees at all levels the ability to comprehend their duties as a government contractor. This also assists with mitigating unforeseen risks commonly experienced by each internal functional area.
Seminar Topics (Generally)
General Principals of U.S. Government Contract
Federal Acquisition Regulations
Data Rights Protection
Procedural Guidelines - What Applies to Me
Proposal Development - What Really Matters
Bid Protests - Justification
Standard Federal Agreements & T&Cs
Prime Contractors Obligations
Business Development
Compliance Programs
Accounting Systems Requirements
Claim and Disputes Preparation & Resolution
Government Investigations - Fraud
Whistle Blower Actions
Subcontractor Rights and Obligations
ITAR Compliance
Foreign Military Sales/Financing
Preaward Audits
DCAA Compliance
CPAR Challenges
TINA
Requests fro Equitable Adjustments
2023 Seminar Schedule
Las Vegas, NV – January 16 & 17, 2023
Orlando, FL – February 13 & 14, 2023
Topeka, KS – March 19 & 20, 2023
Dallas, TX – April 16 & 17, 2023
Saint Paul, MN – May 21 & 22, 2023
Helena, MT – June 18 & 19, 2023
Green Bay, Wisconsin, WA – July 23 & 24, 2023
Anchorage, AK – August 20 & 21, 2023
Honolulu, HI – September 17 & 18, 2023
Montpelier, VT – October 22 & 23, 2023
Boston, MA – November 12 & 13, 2023
Syracuse, NY – December 10 & 11, 2023
International seminars held in the following locations, Please contact us for more information about our international seminars:
Jordan
Poland
France
Canada
Dubai
Seminar Facilitator:
Mr. Patrick Malyszek, President of M3 Federal Contract Practice Group.
Mr. Malyszek holds a Doctorate in Jurisprudence and more than 30 years of experience working with such companies as Lockheed Martin, L-3 Communications, Boeing Aerospace, and many other companies throughout the United States and Canada.
Seminar Fees:
$899. per company (2 attendees), $100. for each additional attendee.
*Attendance is limited to ensure personal attention to any particular issue your company may want to discuss.
If you would like to discuss any contract issues, but are unable to attend a seminar, M3 offers personal consultations, or in-house seminars at your request. To register for a seminar, please call our office at (607) 754-8100. Checks, Visa, Discover, or Mastercard payments are accepted.